Making Barking & Dagenham our second home
As we deliver key Be First schemes across the Borough
Crown House - 149 new affordable homes
12 Thames Road - 156 new affordable homes
Industria - New 45-unit industrial facility
Investment in local people
Investment in the local economy
Social value delivered for Barking schools
McLaren was appointed as one of three main contractos to join Be First's £1billion construction framework back in 2018. Since this appointment, we have developed a very special bond with Be First and people in the Borough to create an extremely successful partnership to date.
Over the past few years, we have secured three key projects through the Framework, with many more on the horizon, as well as leading or participating in initiatives to add value in the loca community. This page shows a little more detail on what we have been doing for Be First since our partnership began.
£17m+
Local spend since we began in 2019
204
Local people employed full time by McLaren so far, across our Be First construction projects
2,000
Miles of transport time saved due to our off-site works, equating to an 8,220Kg reduction in CO2 emissions
Our Be First projects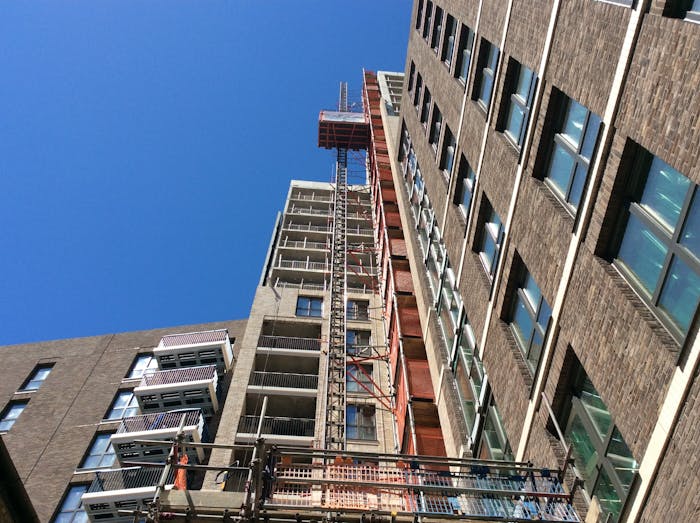 McLaren Construction is one of three contractors to be awarded a place on the Be First Development Framework Agreement Lot 2, for major projects of £10 million and over.
Crown House is a regeneration scheme in Barking on the newly formed Be First Regeneration framework. The project consists of a 19-storey building, as well as a separate adjacent office block. There will also be a new public square built In the first phase with McLaren overseeing the second phase, the Crown House tower block being demolished and new homes constructed.
Provides 168 affordable homes of housing – in a high-rise building comprising shared ownership, affordable rent and market rent apartments, retail and commercial units.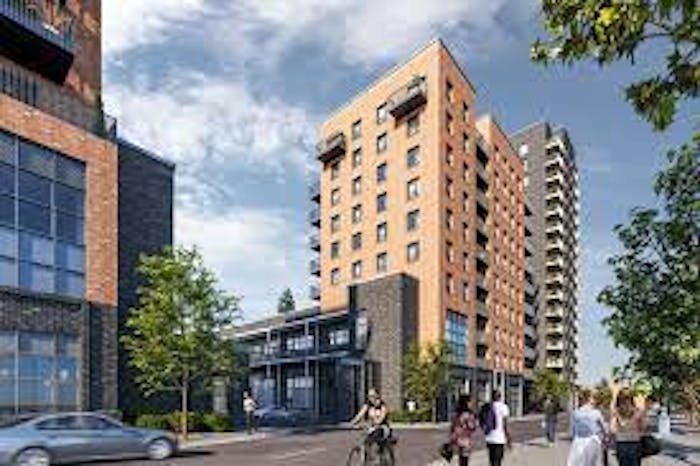 We have been appointed to build one of the first co-location projects in London, mixing new affordable homes and light industrial units at 12 Thames Road in Barking.
 The £63.8 million project will provide 156 new affordable apartments split 50/50 between Affordable Rent and London Affordable Rent with a mix of one, two and three bedrooms, plus 17 light industrial units and a dual aspect café fronting onto Thames Road and Crossness Road. In addition to private balconies, 5,740 square metres of extensive rooftop gardens and play areas are provided for residents and utilise the latest air source technology to heat the project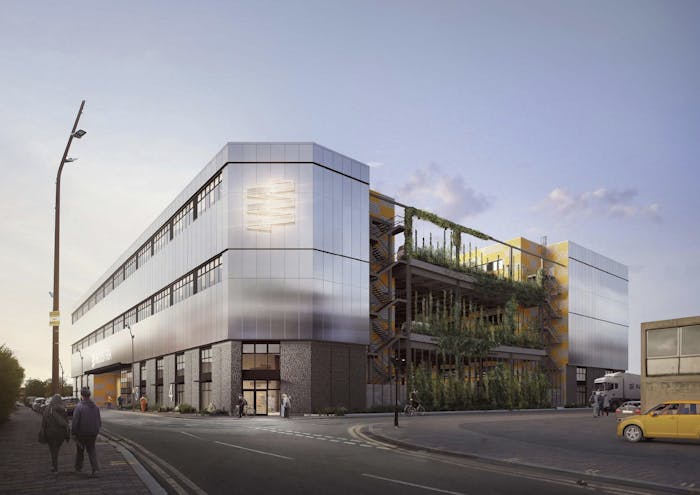 This innovative, multi-storey industrial development in the London Borough of Barking and Dagenham will provide a community oflight industrial units and maker spaceswithin a modern, sustainable building capable of flexing and adapting to current needs.

Comprising of 45 units over three storeys, the project is split into North and South buildings with a shared central service yard and a helical ramp enabling access to serve each floor level. Full-height, seven metre tall 'shopfront' units and a new public cafe and business hub are located at ground floor and a rooftop breakout space provides spaces for tenants to meet, eat and socialise away from a busy environment, helping to foster collaboration.
While collaborating closely with Be First to develop project solutions, we also ensured we helped understand what local people need and how we can help. Our team continue to deliver social value for our neighbours in Barking & Dagenham.
Delivering social value

Christmas initiatives
Numerous donations were made over the Christmas period. A donation of £2500 was given to the local council's Christmas Cheer campaign, helping vulnerable families have a better Christmas; £500 were donated to a local Food Bank, Hope Family Trust; and £280 worth of book vouchers from Waterstones were donated to St Joseph's Catholic Primary School after pupils participated in McLaren's 2020 Christmas card competition.

Site Hoarding Competition – Eastbury Community School
The project team at Crown House wanted the hoarding to stand out and truly represent the local community of Barking. Students from Eastbury Community School took part in a site hoarding competition. Winners were announced at the end of March, when a local artist replicated the artwork onto the Crown House site hoarding. Winning students were invited to join us on site alongside Cllr Darren Rodwell, leader of the Council, to receive their prizes and witness how their artwork had come to life. 

Tree donation for Thames Ward Community Project (TWCP)
Two of our Be First projects, Crown House and 12 Thames Road recently engaged in community initiative to support Thames Ward Community Project. Our project teams partnered with two of our local subcontractors, Corbyn Construction and Food Forest, to excavate and deliver four trees to the new growing space. TWCP held a community planting session to engages neighbours and residents.
In April 2019 McLaren partnered with the Barking local job shop, giving local residents the opportunity to explore the endless career pathways available in construction. 1600 people have benefited so far and over 39% of our workforce on our Crown House project is local.
Work Experience - Meet Elvire

Elvi's first work experience in the construction industry was at our Crown House development, where she was able to learn more about being a Community Liaison Officer.

Local Partner - Meet Kallum

Born and bread in Barking, Kallum is a Mechanical Trainee working for our subcontractorAmpsailat our Crown House project.

Work Experience - Meet Ana

Meet Ana. A Barking & Dagenham local that recently completed a work experience programme at our Crown House development.

Trainee - Meet Yomi

Following a career break to raise her children, Yomi was ready to get back into work when she heard about the opportunity to gain experience as a Trainee Project Manager with McLaren.
Local spend
39%
of spend within 10 miles of the site
Focused on jobs
15
apprentices taken on from Barking across our three projects so far
Apprenticeships
227%
Above the apprenticeship target for Crown House
Crown House A - We reached the top
Back in March 2020, our London team was selected by the London Borough of Barking & Dagenham's development company Be First, to kick off their new Framework with the Crown House A project.  This scheme has now reached a major milestone of 'topping out', which was actually achieved many months ago but due to the pandemic we have had to wait until 11th June to celebrate this milestone. 
Our team was joined by supply chain partners and customer Be First's representatives to celebrate this achievement.
Practical completion is due by spring 2022.
Topping Out in June 2021 was a really important milestone due to the fact it's our first project for Be First and such an important high-rise building for the Borough. It's also a project where we have really focused on modern methods of construction. The entire envelope comprises pre-cast façade panels, we've also used pre-cast columns, floors and prefabricated MEP elements amongst many other items across the build process to ensure as much of the building as possible is manufactured off-site.  I want to thank the Project Director Simon Phipps and the rest of our outstanding team at Crown House for everything they've did to get us to this point.
Sustainable solutions
Material efficiencies & off-site manufacturing – Crown House
Off-site manufacturing allows us to reduce our impact on the environment by reducing waste, transport emissions and by increasing material efficiencies. Our Crown House project made use of prefabricated panels, balconies and stairs as well as using precast brick wall panels with fitted windows off site. This resulted in a significant reduction in the amount of concrete and reinforcement required, which in turn reduces our emissions.
In addition, changing to pre-cast concrete columns made the following savings:
Fuel associated with 2,400 crane lifts
Over 100 deliveries of concrete for pouring on site, equating to over 2,000 miles of transportation saving 8,220Kg of CO2 emissions
Reduction in the required labour on site related to in situ pouring of concrete columns deliveries of rebar and shuttering to site and the associated transport emissions and nuisance for local residents.
Elimination of noise and disruption during installation as this is a silent process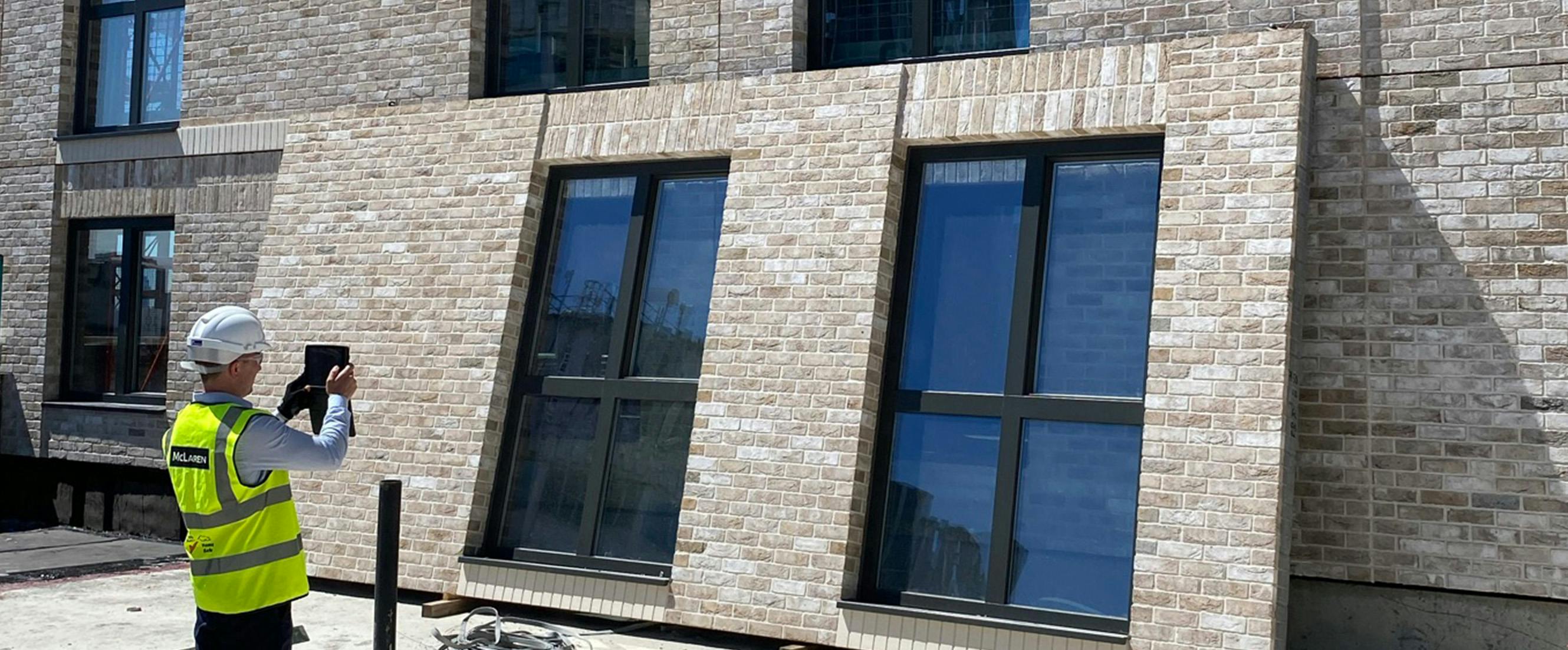 GGBS (Ground granulated blast-furnace slag)
As part of our objective to build an environmentally friendly building, our 12 Thames Rd residential project in Barking have made use of concrete made with GGBS (Ground granulated blast-furnace slag) cement in piling works and ground works, including slab. An impressive 68% of the concrete mix was replaced with this sustainable alternative.
By comparison GGBS requires less than a fifth the energy and produces less than a fifteenth of the carbon dioxide emissions. Concrete containing GGBS is also more durable in aggressive environments, reducing the likelihood of concrete thermal cracking and improving the overall quality of the building.