Impact where you live
Our commitment to communities
How we do business is as important as what we do, and at McLaren, we take full responsibility for fostering a more inclusive and sustainable society. Delivering social value gives us a sense of purpose, and is considered in all our business decisions, including how we employ people, how we engage with the communities we work in and how we buy products and services.
At the heart of everything we build are the people. Local people are the ones who will enjoy our projects for years to come so engaging with them throughout the construction process is essential.
Our programmes and activities are focused on adding value to local communities, inspiring and motivating individuals and creating a positive perception of the construction industry as a force for good.
By 2025, McLaren aim to be industry leaders in three key policy areas: Planet, People and Social Conscience.
Key areas of focus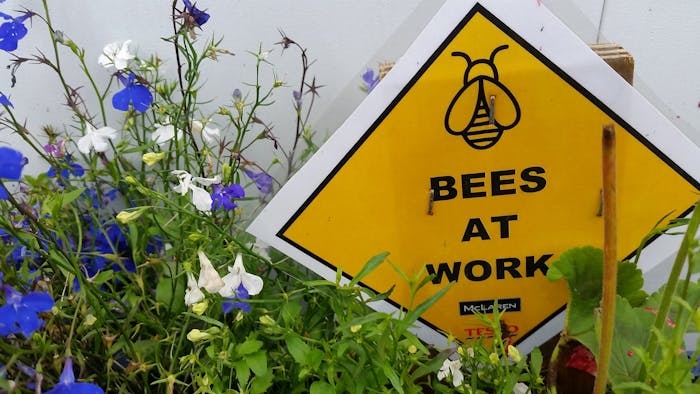 Making a positive impact in the communities we work in gives a sense of purpose to what we do. We appreciate that the needs and priorities of each local area are different, and the 'one size fits all' approach doesn't work. We take time to understand the key needs of the community and engage with local people before developing a social value action plan. This includes everything from financial contributions, donations, volunteering with local charities to helping local businesses.
Sourcing local suppliers and employees during a project is one of the biggest ways we secure wider social and economic benefits for the community. McLaren attends 'Meet the Buyer' events to engage with local supply chains, to network and discuss collaboration and work opportunities.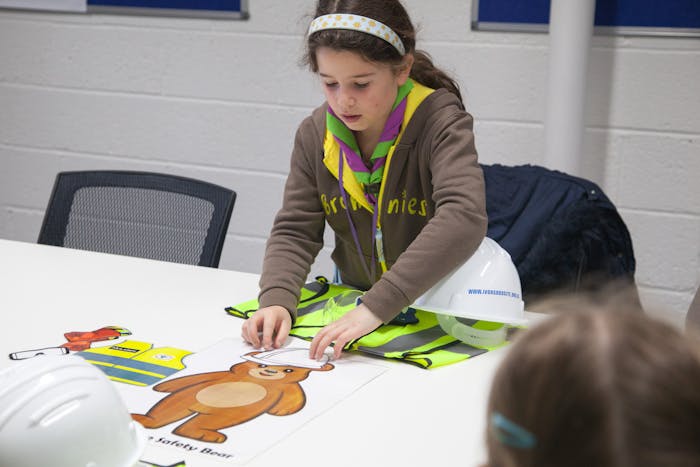 To inspire and motivate individuals, we commit to:
Develop long-term relationships with key primary, secondary and tertiary education facilities to inspire young people to enter the construction industry, either with us directly or with our preferred supply chain partners
Encourage interest and create opportunities for individuals to enter the construction industry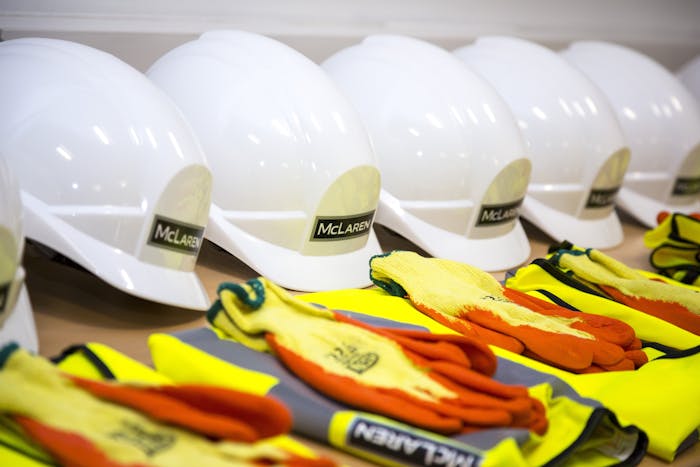 We want to be a welcomed neighbour in every local area and that means positively contributing to the community and pro-actively minimising disruption and inconvenience caused by our construction activities. To create a positive perception of the construction industry, we commit to:
Registering all our construction sites with the Considerate Constructors Scheme. We target an average score of 40 across all our projects, showcasing excellence and innovation in construction management
Minimise the disruption associated with work at our construction sites and address complaints in a timely and appropriate manner
Interact and share knowledge with other industry leaders. By publicly showcasing our work, we lead by example and demonstrate how we have been able to make a positive contribution to local communities
Impact
15,000+
Hours spent on community activities in the last three years
Time spent
20
Years contributed to 'Business in the Community'
Charity
100+
Charitable events organised in the last three years working with our customers

Apprenticeships
Our well-established McLaren training department is a dedicated and fully supported resource available to all employees in line with our commitment to developing and training apprentices.
We offer young people the opportunity to gain employment and training whilst achieving worthwhile qualifications to help ensure continuous employment throughout their careers.
At the start of every project, we agree targets and KPI's for local labour and apprenticeships in line with the National Skills Academy for Construction Guidelines. These targets form part of our Employment and Skills Plans (ESP).

Combatting modern slavery
McLaren is committed to acting ethically and with integrity in all our business relationships, implementing and enforcing effective systems and controls to ensure slavery and human trafficking is not taking place anywhere in the company or our supply chain.
We comply with all legislation including the Immigration Act 2015, ensuring we prevent any illegal working.
We are also absolutely committed to maintaining and improving systems and processes to prevent human rights violations within our own operations and that of our supply chain.

Considerate construction
As part of our commitment to people, community and the planet, we register all McLaren construction sites with the Considerate Constructors Scheme. This commits us to a Code of Considerate Practice, which is designed to encourage the best possible performance during all stages of work.
Going above and beyond the basic statutory requirements of the sector, this Code helps us to ensure that all of our sites are beneficial for the people working on and around them, the community in which they are situated, and the planet as a whole.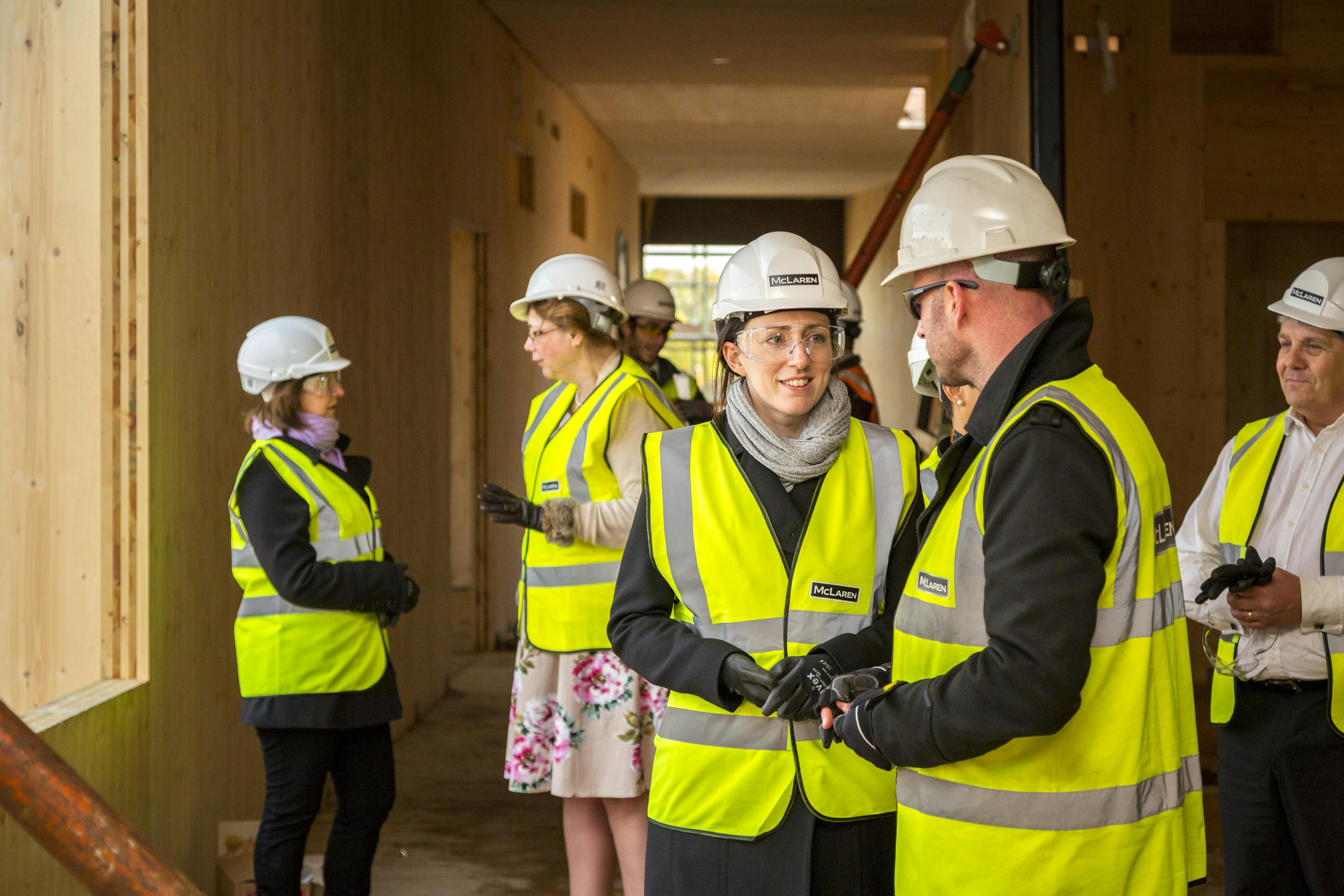 Charity Partnerships

Lighthouse Club
The past year has had an effect on us all. Mental health has been one of the biggest casualties in the fight against Covid-19. We have partnered with Lighthouse Club, a charity that provides emotional and financial support to our construction workforce when they need it most.
In line with our Work Safe Home Safe programme, we are on a journey to continue educating everyone in our industry to recognise the key signs and symptoms of difficulty or distress in our colleagues and create a more positive mental health culture.
Lighthouse Club allows us to:
Raise mental health awareness
Provide our colleagues with a support service available 24/7
Access mental health awareness training
Encourage colleagues who are struggling to reach out for help
Change the perception of mental health in the construction industry

Construction Youth Trust
One of the key objectives as part of our Community Strategy is to create entry opportunities for young people to join the construction industry.
By partnering with the Construction Youth Trust, we can help inspire and enable young people to overcome barriers and discover a career in the construction sector.
We have joined with this charity to:
Partner with educational institutions to find young talent
Source employment and work experience from the communities we work in
Upskill local people
Inspire young people to choose construction as a career path
Engage with the next generation of construction workers