Careers
This is not just a job. We offer careers where people learn, create and grow.
At McLaren, we work hard and have fun doing it. As a privately owned company that is continuously growing, we have a unique culture of being a Tier 1 contractor with the personal touch. This means employees having the opportunity to succeed, with real transparency between you and those that lead the business. This is the place to fulfil your potential and be recognised for your progress every step of the way.
Our sites and offices are vibrant places to work – everyone knows each other and there are always opportunities to move into new areas as we respond to customer challenges in our uniquely agile way. McLaren offers career options in different business areas, including bidding, building management, construction, customer care, marketing & communication, design, finance, IT, office support and reception, people development, health and safety, sustainability and much more.
Our workplaces are fun and friendly places to be. Our business has been built around strong relationships and bringing people together inside and outside of work. We have regular social events throughout the year with a vibe that is unique to McLaren as well as numerous fundraising activities which are inclusive for all staff.
Investing in people

Making Apprenticeships happen
As part of our apprenticeship programme, you will work closely with our site teams to gain valuable exposure to construction activities and have your own personal development plan to support you as you work towards your apprenticeship qualification in your chosen discipline. You'll also benefit from mentoring and coaching from one of our experienced managers.
There is an apprenticeship for almost every occupation with hundreds of placements available at different levels. If there is not a standard that has the specific title you are looking for, there still may be an apprenticeship that works for you at McLaren. For instance, Contracting Operations can be used to develop the roles of construction manager, planner, quantity surveyor, project manager, civil engineer, estimator or site supervisor.

Commitment to Training
We offer a full Career Development Programme from trainee level up to leadership position through our structured in-house development programmes and company mentoring scheme. An annual Training Schedule of courses is promoted internally, and we encourage professional memberships and qualifications.
Working as a member in one of our highly skilled teams, you'll have the chance to contribute to a wide variety of projects. Our commitment to training means your talents will continually be developed as we provide you with the support and encouragement to fulfil your potential. With the help and guidance of management and directors around you, you'll quickly be given the opportunity to prove yourself.
As you grow, you'll benefit from the many rewards that come from working for a company that values its people. All this, combined with our stability and reputation, means you can plan a stimulating and successful career with a company you can take pride in
Don't just take our word for it
Building a more gender-balanced industry
One of our main areas of focus is to challenge the preconceptions of construction by erasing the one-dimensional view of the industry. A growing number of women are choosing a career in construction in what has traditionally been considered a male dominated industry.
There are thousands of exceptionally talented female construction workers who are building their career to the top. It's important for us to ensure equal opportunities and promote a more gender-equal workforce. We want future generations to understand that the construction process begins before we start on site and to normalise the position of women in construction.
We have partnered with education institutions such as schools and colleges to share with younger generations the opportunities construction has to offer, an industry that has been disrupted by technology and requires highly qualified men and women to deliver amazing projects.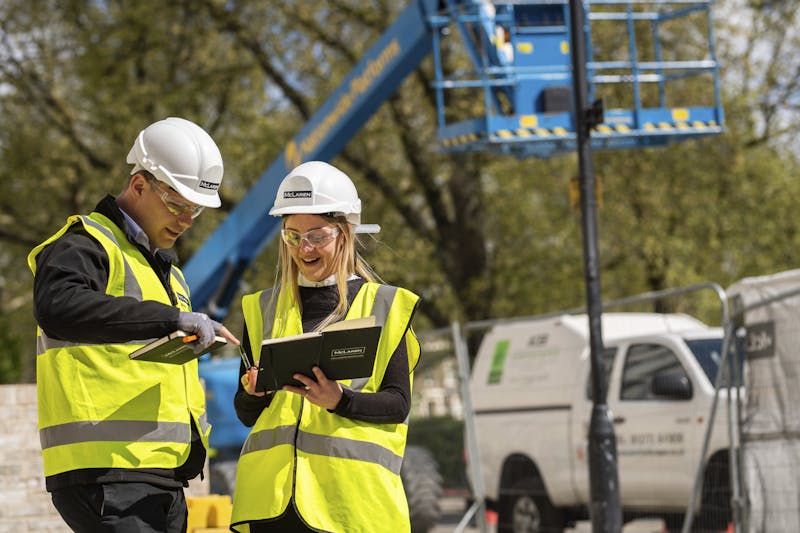 Construction needs...more women
Download our women in construction brochure here
How we make your career happen
At the heart of everything we do is our people. They are the core of McLaren's continuing success, and we wouldn't be where we today without you.
To ensure you continue to grow and prosper, we will actively support you through career pathways with the latest training and development. Our business structure will allow you to build relationships with company leaders in a more personal manner. McLaren leaders believe in learning from everyone on the team and value being challenged with innovative ideas.
See below for featured job vacancies and follow the link to the job opportunities page.