Delivering a luxury boutique hotel in the heart of Chelsea.
Previously known as Durley House, The Beaverbrook Town House used to be two terraced Georgian houses that were later converted into a block of flats. Today, it has become the ninth hotel owned by the developer, Cadogan Estates. Beaverbrook Town House boasts a dazzling Art-Deco inspired bar plus Japanese cuisine in the Fuji Grill, providing cover for 60 dining guests.
Significant structural alterations were made to the hotel alongside fit out works for our repeat customer. The development delivers the hotel to the 21st century whilst restoring a Georgian façade to its former glory.
Originally built in the 18th century, minor elements of the brickwork were preserved while almost everything else was rebuilt.  As the previous layout of Beaverbrook Town House was dated and unfit for future use, we demolished the interior parts of the building, utilising only the frame for the new internal build.
Logistical challenges – working on a landlocked building
A complex temporary works scheme was put in place to retain the integrity of the building frame structure without compromising the two terraced properties.

Logistically, the removal of very old existing floors and front facades were some of the more difficult tasks to complete. As the site was landlocked on three sides, the building was only accessible from the front. A temporary pit lane was set up to receive deliveries on Sloane Street.
Lighting technology – RAKO system
The façade lighting is controlled via an RAKO system that is accessible via an app. This smart lighting technology enables operational staff to alter the settings and dime external lights to set the mood, match the season or our unpredictable weather or even tailor it for a special event.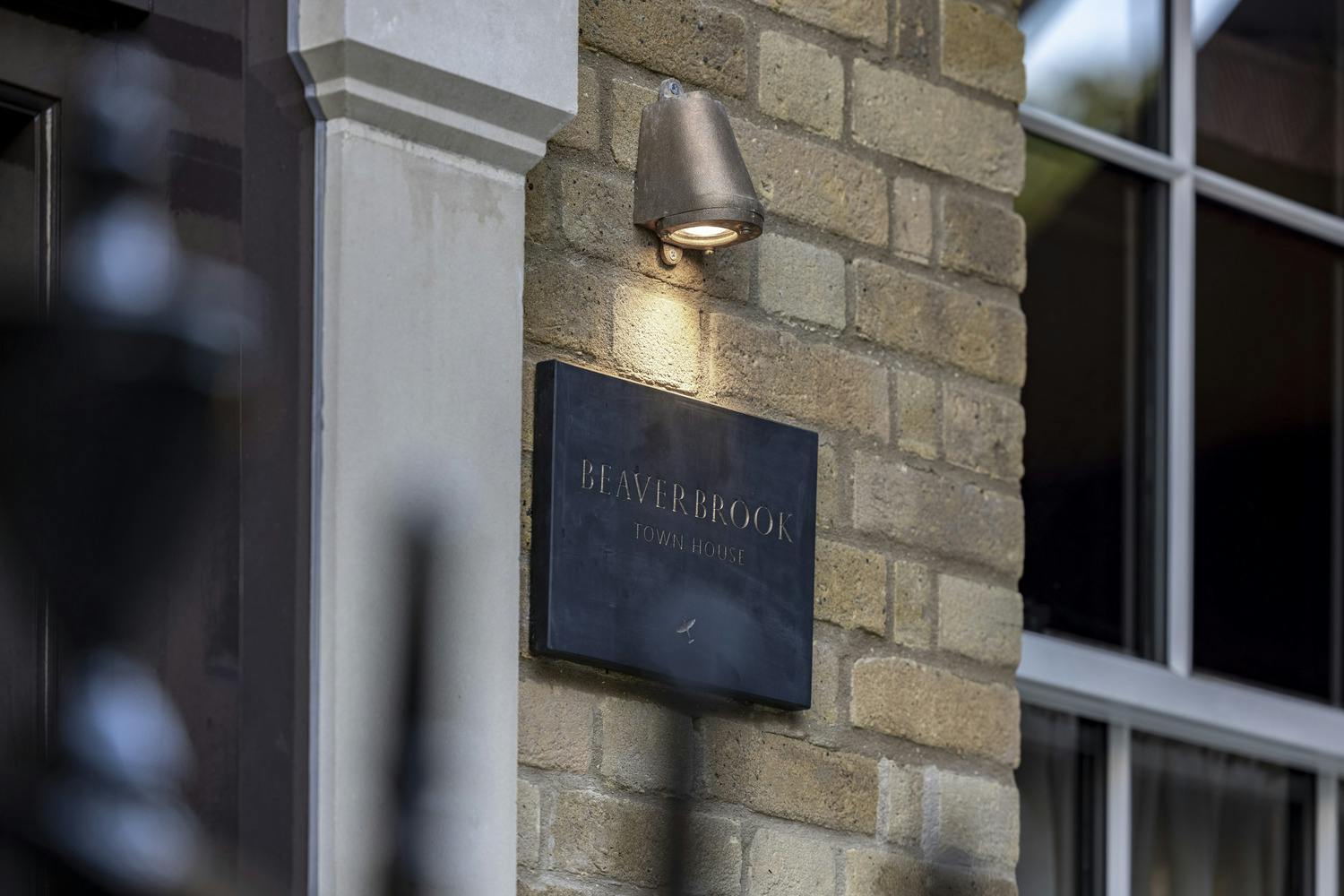 Working with the local community
Over 14,000 hours were delivered on site, using supply chain partners from the neighbourhood. For the duration of the project, roles such as labourers, traffic-marshals, gatemen plus any temporary agency staff were engaged via local supply chain partners only in the Royal Borough of Kensington and Chelsea.
In order to preserve an aged cherry blossom tree that was originally planted by one of the local residents, our team took tree-root-cuttings so the tree shrubs could be replanted and regrown across the road, in the communal gardens of Cadogan Square. Cadogan Place Garden is a Grade ll registered park and garden filled with 300-year-old Mulberry trees, a tennis court and a dog walking garden. Our project team achieved a 'Very Good' BREAAM rating.